Shop Our Most Popular Beef Boxes
The Cowboy Box
4 Pounds 80/20 Ground Beef
1 Pound Tender Fajita or Stew Beef
2 to 3 Pounds Signature Cut Steaks
2 to 3 Pounds Roasts
The Rancher Box
6 Pounds 80/20 Ground Beef
2 Pounds Tender Fajita or Stew Beef
3 to 4 Pounds Signature Cut Steaks
3 to 4 Pounds Roasts
The Cattle Barron Box
8 Pounds 80/20 Ground Beef
2 Pounds Tender Fajita or Stew Beef
4 to 5 Pounds Signature Cut Steaks
4 to 5 Pounds Roasts
From Our Herd to Yours!
The most popular way to fill your freezer is through our carefully curated beef boxes. Our beef boxes contain varying quantities of Steaks, Roasts, Ground Beef and Stew or Fajita Beef, and are sized to fit your household's needs at 10, 15, 20 and 30 pounds. Beef boxes are offered as one-time purchases as well as reoccurring subscription shipments of 20, 60, or 90 days. Shipping charges for our beef boxes are reduced compared to Ala Carte.
Examples of Steaks you might receive in your box are New York, Ribeye, Tenderloin, Sirloin, Bavette and Flat Iron. Examples of Roasts you might receive in your box are Round Roast, Chuck Arm Roast and Chuck Roll Roast.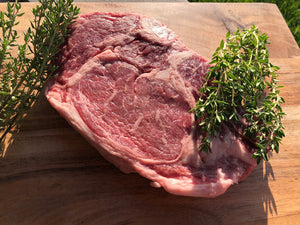 Bulk Beef
Wanting to stock up on our delicious beef? Bulk Beef is for you! We offer Quarter (100lbs), Half (200lbs), and Whole (400+lbs) quantities. Half and Whole quantities allow you to customize your beef to your liking. We are unable to ship Bulk quantities of beef. Pickup or general delivery is required for Bulk. Please contact us to see if you are within our delivery region. The general breakdown of a Bulk order is 40% Ground Beef, 25% Steaks, 25% Roasts and 10% Miscellaneous Cuts (Brisket, Ribs, Tri-Tip, Offal). To begin purchasing Bulk, please pay the deposit online and we will email you with details. Click here to Learn More.
HOLY MOLY!! I just wanted to send you guys props! We just cooked our steaks from our box tonight and I am floored by how tender and flavorful they were! My 4 sons, husband and myself loved every bite! I will be telling my friends.
The ultimate taste. We ordered the Cowboy Box and were very pleased. The steaks were amazing and the taste of the burger (sans spices) was truly exceptional. High five to The Herd!
Highest quality beef, sustainable packaging, quick personalized response to inquiries, local operation from field to your door, free shipping a nice bonus. I have raved about the flavorful beef to many of my friends and family. And the fact that it is local is important.