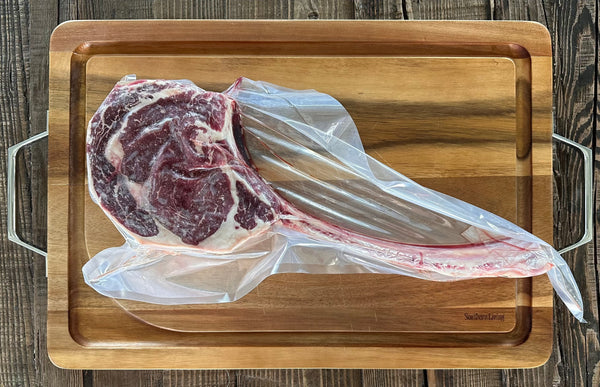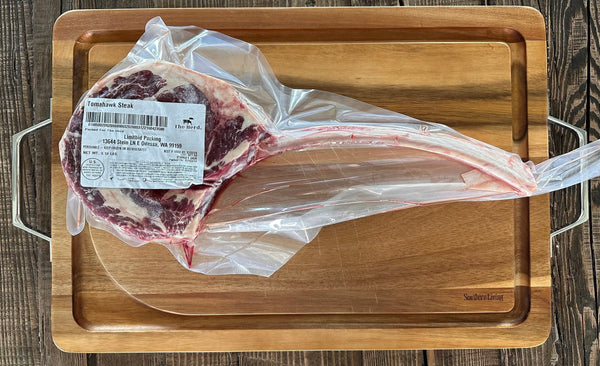 Tomahawk Steaks come from the rib area of the animal and has ample marbling and a long bone to enhance the flavor of this cut. Season as wanted and throw on the grill or smoker.
Please note that the thickness of this cut varies, and is much thicker than a normal Rib Steak.
Weight and Prices for Tomahawk Steaks are found below:
SMALL Tomahawk Steak: 1.5-2.0 lbs | $50
MEDIUM Tomahawk Steak: 2.01-2.30 lbs | $57
LARGE Tomahawk Steak: 2.31-2.70 lbs | $67
XL Tomahawk Steak: 2.71-3.0 lbs | $75
HOLY MOLY!! I just wanted to send you guys props! We just cooked our steaks from our box tonight and I am floored by how tender and flavorful they were! My 4 sons, husband and myself loved every bite! I will be telling my friends.
The ultimate taste. We ordered the Cowboy Box and were very pleased. The steaks were amazing and the taste of the burger (sans spices) was truly exceptional. High five to The Herd!
Highest quality beef, sustainable packaging, quick personalized response to inquiries, local operation from field to your door, free shipping a nice bonus. I have raved about the flavorful beef to many of my friends and family. And the fact that it is local is important.