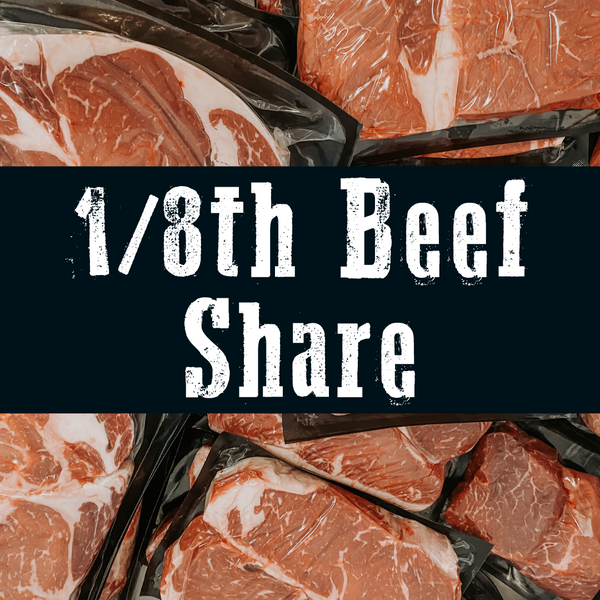 1/8th Beef Holiday Special
Give the gift of a full freezer this Holiday season! An 1/8th beef share is just enough beef for a family to work through for a couple of months, without overwhelming their freezer. An 1/8th beef is roughly 50 lbs of Beef. Please note, we can not ship this large of a quantity. When you purchase, you will receive a Gift Certificate that can be redeemed at one of our pickup locations in December or in 2024. Pickup locations include Spokane, Moses Lake, Tri-Cities and Ritzville. 
1/8th Beef Share Contains...
25 pounds of Ground Beef (1lb packs)
4 Roasts (from the Round or Chuck)
4 Ribeye Steaks
4 New York Steaks
2 Packs of Sirloin Steaks
1 Pack of Tenderloin Steaks
1 Pack of Bavette Steaks
1 Pack of Short Ribs
HOLY MOLY!! I just wanted to send you guys props! We just cooked our steaks from our box tonight and I am floored by how tender and flavorful they were! My 4 sons, husband and myself loved every bite! I will be telling my friends.
The ultimate taste. We ordered the Cowboy Box and were very pleased. The steaks were amazing and the taste of the burger (sans spices) was truly exceptional. High five to The Herd!
Highest quality beef, sustainable packaging, quick personalized response to inquiries, local operation from field to your door, free shipping a nice bonus. I have raved about the flavorful beef to many of my friends and family. And the fact that it is local is important.